...making an encrypted fileserver
(...and with a BitTorrent-webinterface! )
Well, I've been busy with a encrypted fileserver before and it runs for quite a while in my closet now, but it wasn't perfect yet. I wanted it to download .torrents automatically, so I don't have to keep my workstation powered on, just for that. Since my fileserver runs OpenBSD and the first idea was to have an interface to it by VNC and have Azureus run inside X-windows on it, I needed to get Java 2 SDK on OpenBSD...
Anyway, I think I was almost there… but then I came across TorrentFlux and actually, it's much more ideal in my situation than the solution I was working on :-) So I decided to stop working on the Java+VNC+Azureus-solution and get this Apache/PHP/MySQL/Python/BitTorrent (all available in the OpenBSD-packagecollection!)-thing going.
So, what is it?
This is a fully-encrypted (samba)fileserver, which means that all the data that's on there, actually can't be found physically on the server :-) To be more precise, the data you copy to the server gets encrypted and the data you read from it gets decrypted, all on-the-fly…
And the sugar-on-top on this one is that it's now got a webinterface for uploading torrent-files to it (or parse the URL's) and it starts downloading ( & encrypting) them.
Well, it looks the business, doesn't it? (oh, it's called scramjet BTW ;-))
(actually, I should've called it Tonino...)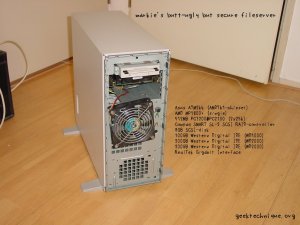 It's a shame I've got this beauty hidden away…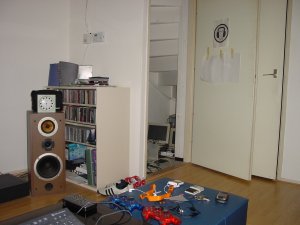 The Webinterface to this piece of bad-ass magic: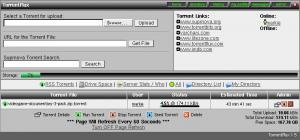 (and that's a legal torrent)

It downloads directly onto the pseudo-device, so the data gets encrypted while it's being stored :-)
The encrypted volumes can be shared through Samba and on my Media Center, it looks like this: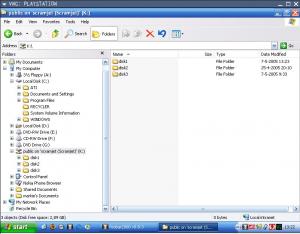 To make things quick… I decided to write a rough HOWTO for getting an OpenBSD-encrypted fileserver, additionally with a webbased BitTorrent-interface. You can find the Howto here
Use?
Actually, I'm not sure… I started thinking about something like this since here in Holland the local anti-piracy group are starting to think they're God…
Anyway, the only P2P I use is BitTorrent and maybe I should decide to switch to antsp2p but then I should look into Java on OpenBSD again and actually I like the beauty of the current Apache/PHP/MySQL-solution.
I'm not a lawyer and imho there's too little legal history around to be sure of what is allowed and what is not… My logic only tells me it's impossible to get a proof of the whereabouts of someone online just by looking at some logs… You at least need to proof the person actually possesses the data and in my case… good luck proofing that! In some countries downloading is legal and uploading is not? (probably Einstein who thought that one up)
I'm very curious how upcoming lawsuits will turn out in this country. In the meantime, I'll polish my solution (if it is one) further…
Don't get me wrong here, I do not consider myself a pirate in a long way (and do not like to be considered that way either), I just built it…
because it's possible :-)
DIY trackback
slashdot.org (!!!)
undeadly.org
I keep updating the machine through time, here's a peek at the current hardware this machine now utilizes
As mentioned in the
Message from Mark's family
this site has been made static. This means that it will be no longer possible to comment on his ideas and projects, but that we all can continue to cherish his creativity.
you can find all of my projects
overhere