making a $100 laptop for $75! ...sort of...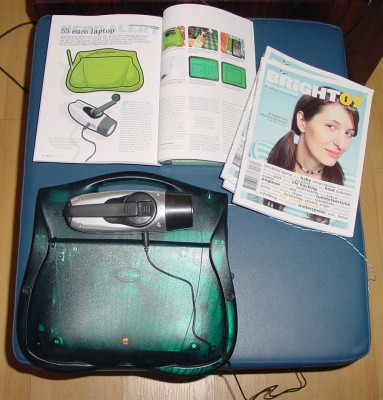 click to enlarge
The article for which I made this hand-crank-laptop… It's called ''the 55 euro laptop' which, in today's exchangerates would average around $65 and when you add an old wireless card (which I wasn't able to find yet) for around $10, you get a $75 project. 55 euro is the cost of one eMate and all the other materials I used. This is not a translation of the article in Bright, merely a journal on how I made this laptop. For people in the Netherlands and Belgium, Bright nr.7 is the current issue, for sale in any good bookstore.
introduction
You probably heard of the $100 laptop, a great initiative by Nicholas Negroponte to bring a low-cost open source, windup-powered laptop to the world, targeted at children in developing nations. I really hope things work out and lots of children will be able to receive such a laptop.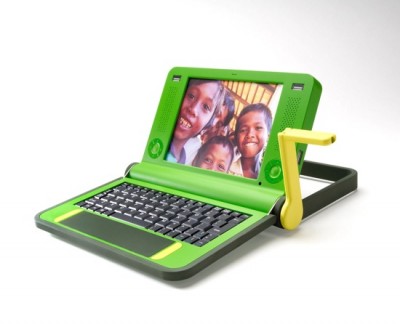 But… this doesn't mean some people get curious on how far they can get, trying to make their own version of this $100 laptop. Phillip Torrone for instance, asked himself "is it possible to cobble together "something" like that, using eBay and hunting around for stuff – while trying to stay under the $100 limit?"
This is what Phillip scobbled together: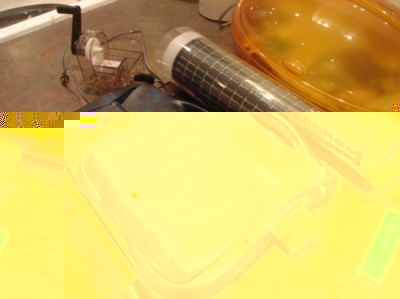 "That's it so far, I have testing to do and heading out for a quick trip. I am hoping this may get other Makers out there thinking about low cost computers, recycling gear and watching the progress of the real version from MIT."
A little while later, at B R I G H T magazine, we wanted to make something, dedicating to the $100 laptop and with Phillip's original idea I sat down and tried to make this work… this is what I did…
Powering an eMate by hand-crank…
First of all, you can look at this as a how-to if you will, but I doubt how many people would really want to do this. This is more or less my journal of what I did to get this all working. But if there's information in here which is useful for you, feel free to use it.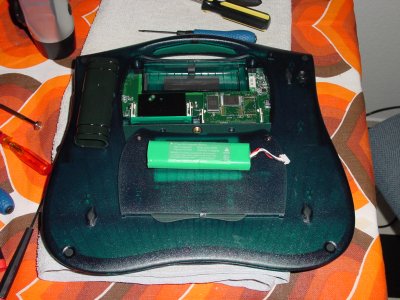 The battery in the eMate I found through the Dutch auctionsite Marktplaats had seen better days and since I didn't really have a plan on how to do this, I decided to take it apart…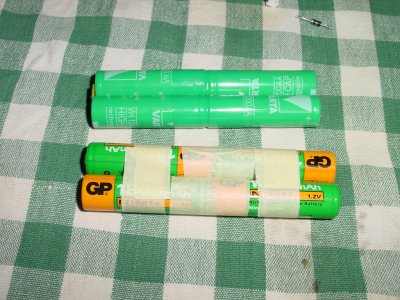 ...it seemed to my surprise that the battery actually consisted of 4 rather normal rechargeable batteries. I did have some fresher looking ones laying around, so I started making a new battery for this eMate…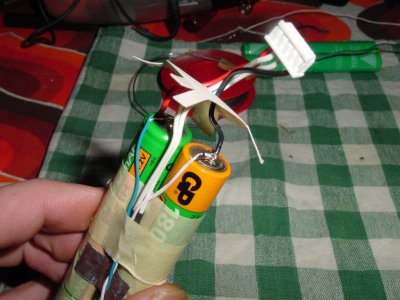 ...and while I was making the new battery, the solution also struck me on how to hand crank this baby. The eMate itself requires 7.5 volt on the outside to get charged and first I was looking into ways to get from the 6 volt of the hand-crank dynamo flashlight (I used in other projects as well) to the 7.5 volt of the eMate. But then I thought, wait a minute, what if I bypass the eMate and start charging the batterypack directly? That way the 6 volt of the hand-crank should be enough.
So I soldered an extra pair of wires onto this new batterypack (blue and white wires in the pictures)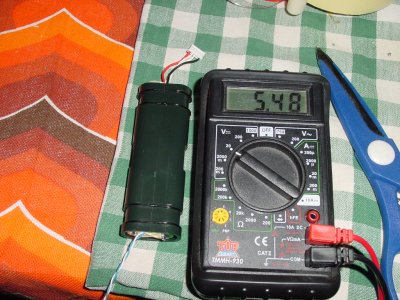 ...testing if all the connections are solid and working…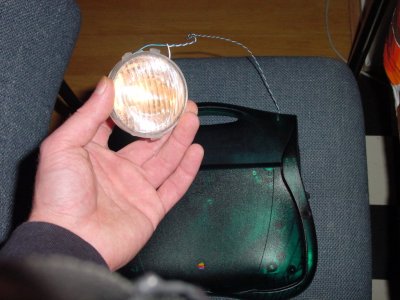 ...and before we can make sure this charging-setup really is charging the battery, I drained it first with a little 6 volt bulb (a Dutch bikelight…)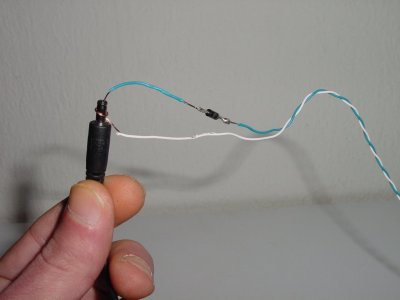 Just to make sure energy is flowing the right way, I decided to solder a diode into the circuit. The black plug in the picture is the plug provided by the dynamo-flashlight to charge your phone with.
So here you have it, a hand-crankable eMate! ;-)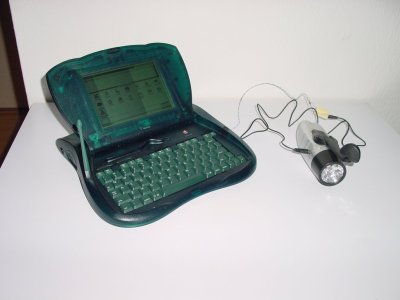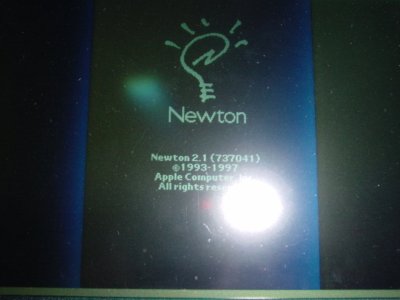 This is the bootscreen, which I saw after I've been cranking for about ten minutes…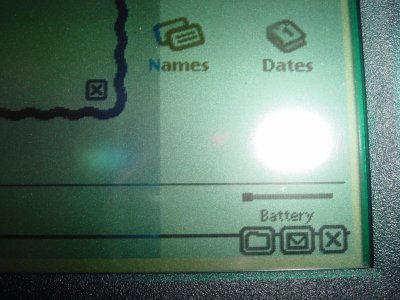 ...and this is the first check… it really looks like this is working!
Getting her on the internet…
Well, even though it's a rough rapid prototype, it seems to work quite well. Next thing to do was to see if this eMate is useful in any way in 2006. I made a serial cable for my eMate, going from DB-9 to Mini Din 8. A schematic for that can be found here
I've got a Windows Media Center which is my only Windows-machine left. I connected my eMate with this self-made serial cable to my Media Center, installed Newton Connection Utilities on there and updated the eMate with all kinds of internet-related software.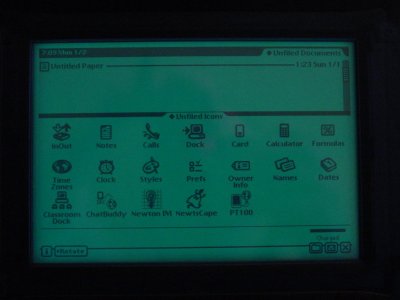 ...a quick peek on the installed applications… Newtscape is the browser by the way… ;-)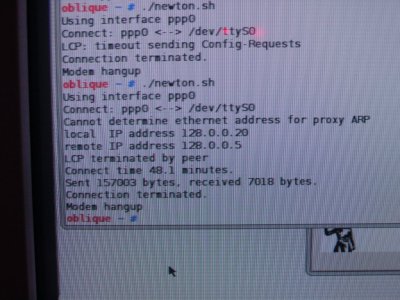 ...this is a screenshot from my linux-workstation, I could use the serial cable I made earlier, to get an internetfeed to the eMate, through it's serial port. My workstation became a router which routed internettraffic through PPP to the eMate. A Howto for this can be found here (although I had to do some custom stuff, specifically for my setup, to get it working)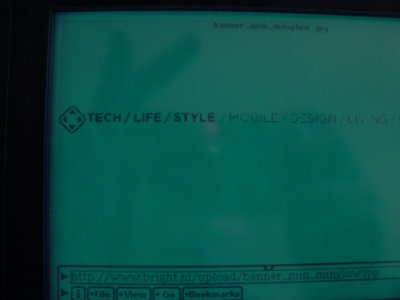 ...and it looks like this is working too!
This is an image from the B R I G H T website, so we have an internetconnection on the eMate!
After waiting for quite some time, it even managed to render the complete B R I G H T frontpage…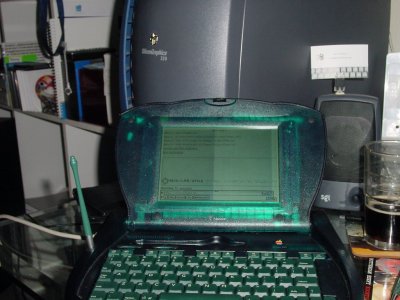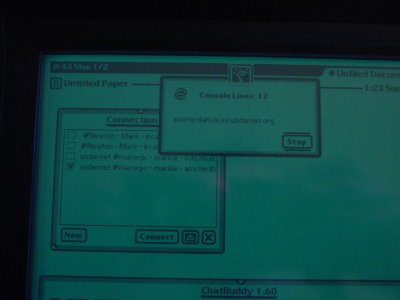 Getting her on IRC... (which seems like a more useful application for this eMate, since it's text only…)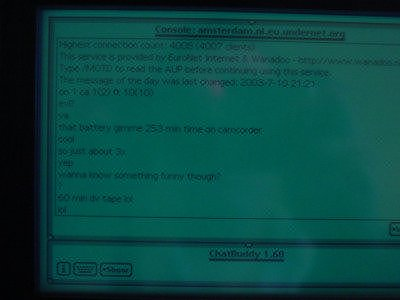 ...and the usual chat on IRC...
Verdict
So is this thing useful? Well, to be honest, for me personally an eMate still is useful, but only as a serial terminal to my SUN-machines.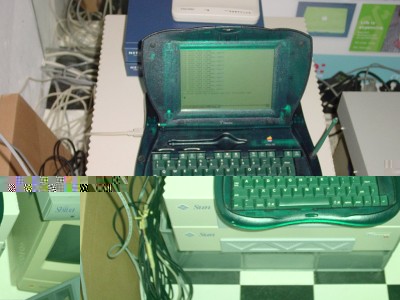 click to enlarge
...and that's without a hand-crank. When using the eMate with a hand-crank, you see this message way to often: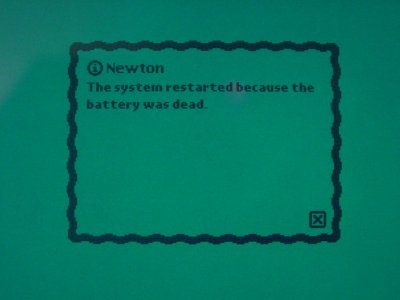 click to enlarge
The charging setup used here has only been a proof-of-concept and/or rapid prototype. I can't imagine anyone really really wants to hand-crank an eMate, but be my guest if you will.
Imho it's not really useful as a machine to really work on. So would this be a solution for the third world, even if there would've been enough eMates to give away? (maybe Apple, just like Atari once did with their ET-cartridges, dumped them somewhere in the desert? who knows?)
I guess not… so let's all wait until the real $100 laptop comes around and let's all hope this One Laptop per Child plan really works out…
DIY trackback
MAKE:blog
As mentioned in the
Message from Mark's family
this site has been made static. This means that it will be no longer possible to comment on his ideas and projects, but that we all can continue to cherish his creativity.
you can find all of my projects
overhere